As a welcome gift from my school, we were taken to the BT Digital Music Awards. That was awesome. Although it wasn't the best music event I've been to, it was a great experience. What was disappointing which is common with award shows is that the winners weren't there! Adele and Jessie J (who are from my school) also didn't come. They had ridiculous nominees including, Lady Gaga, Rihanna, Eminem which is ridiculous as I hadn't even heard of the DMA's before I got invited. I wish I posted my outfit, not that it was amazing just because it's something. I should post much more regularly. Blogging/ Vlogging is going to be part of my daily routine.
Who was there you ask?
JLS
Marvin was TOTALLY eyeing me up. I'm not a big fan of JLS at all however, I did vote for them and Alexandra. (Marvin is/was local).
Ed Sheeran
He looks far more attractive with his beard now, he was the best act alongside Rizzle Kicks. I'm so proud of where Ed Sheeran is now, I found him quite a while ago, got both of his EP's and was like 'he's so underrated its ridiculous'. I was secretly glad no one else knew him though. Now I can't go a day without hearing 'A Team'.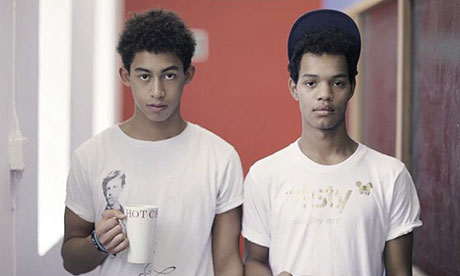 Rizzle Kicks
Rizzle Kicks were the opening act, I was proud of them as they also came to my school (Jordan was on the same course as me!). I could tell they were happy to be performing for fellow BRIT School BDC students.
Marina & The Diamonds
Marina & The Diamonds was great, I love her (I have her album). Unfortunately she only did one song 'Radioactive' which is her new song, I like it but I wish she did another, preferably 'I'm not a robot'.
Nicola Roberts
I was a tad disappointed with Nicola Roberts performance, it was alright but a bit 'try hard'. I caught her checking out the crowd backstage looking nervous and totally got a wave and a smile from her. It was still a good performance, she took a risk performing a new song. I was looking forward to 'beat of my drum'.
Maverick Sabre
I quite like Maverick Sabre, he played the one song I LOVE 'I Need'. No one else knew the song so I was singing passionately on my own. His head is really that shape by the way.
Charlie Simpson
7 years it took, 7 years for me to meet 1/3 of Busted! I love Charlie Simpson. He was great, although I think the performance was a bit half hearted, I think it was because the DMA's are such an unknown show.
Kaiser Chiefs
They didn't perform but were there to pick up an award which is fine. They were there!
Olly Murs
Unfortunately he didn't perform either, but I love him! His dancing is the best.